30 Month Old
Many pediatricians like to see kids around 30-months for a well-child check. That's because a lot of development occurs between ages two and three. The doctor will probably ask how many words your child says -- by now, most have a vocabulary of about 250 words! He'll ask about motor skills too -- and may even ask your child to demonstrate some of hers, such as jumping. This could be a fun visit!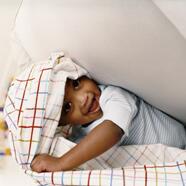 Your Toddler at 30 Months
She can probably undress herself and some pull on her own pants and socks.
She's torn between wanting to be a big kid and wanting to be a baby. So some days, she might do things on her own and others, she insists you do it all.
She may be anxious or shy around strangers.
Toddler Know-How at 30 Months
Stop by the doctor's office sometime when there aren't vaccinations. Or, after the shots, give him time to calm down and relax. He'll leave with positive thoughts about the place, making next time less tense.