26 Month Old
By 26 months, most kids have a vocabulary of 50 words or so, and can combine two words into a simple sentence, like "Mommy eat" or "More cracker." Keep on chatting and your kid will keep learning. If he isn't saying anything yet or if strangers can't understand anything he says, it's a good idea to check in with his pediatrician just to make sure everything's okay. Remember: developmental delays caught early can be more easily overcome.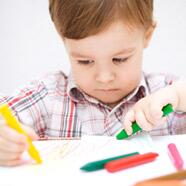 Your Toddler at 26 Months
He probably loves scribbling back-and-forth.
He'll do best with big, bulky crayons he can grasp in his fists; he's not likely to hold one correctly until they're closer to four years old.
He follows simple instructions and can copy actions and words.
He can find hidden objects.
Your little chatterbox is likely using two-word sentences.
Toddler Know-How at 26 Months
Looking for an easy art project? Use a simple cardboard box. Together, you can decorate it, and then, with a little imagination, the box can become a house, a spaceship or a wagon!