16 Month Old
Dying to make bedtime less of a struggle? For the thirty minutes before bedtime, follow the exact same rituals in the exact same order -- and give her 20 minutes notice before that will start. Mom trick for changing baby's bedtime: Work around the time she usually falls asleep naturally, then adjust it gradually, in 15-minute increments.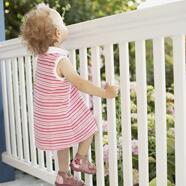 Your Toddler at 16 Months
Munchkin is probably in a state of constant motion, playing, kicking, walking, climbing -- maybe even running.
If you have a climber, it's time to double-check the baby-proofing. It's also a good idea to keep a rug or carpet beneath the crib in case of jailbreaks.
If baby isn't already eating with a spoon and fork sometimes, encourage her to practice.
She should also be able to scribble, so break out the sidewalk chalk and crayons (and hide all pens and permanent markers).
Toddler Know-How at 16 Months
Teething pain? Let baby snack on frozen peas -- they feel good on her gums and are surprisingly yummy, not to mention healthy.