14 Month Old
Got a biter on your hands? Don't worry: Biting is actually a really common phase for toddlers and won't last too long. Since they can't communicate emotions, particularly frustration, they bite. You'll find that most other parents are understanding -- but do make it clear to your little one that biting isn't acceptable.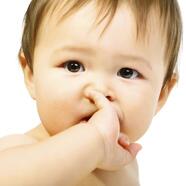 Your Toddler at 14 Months
Baby may be practically running or may still be summoning the courage for first steps.
Expect bumps, splats, and somersaults, since depth perception and coordination take a while.
You might also notice bowlegs, flat feet, or baby's toes pointing out when she walks. These are common and should disappear later.
Your mini-me may be digging into -- and emptying -- everything in reach (boxes, bags, trash cans, your purse). Keep anything messy or dangerous out of reach.
Toddler Know-How at 14 Months
When baby tumbles, your reaction can have a big effect on hers. If you ignore minor falls -- or even clap and say "nice one!" -- you may avoid the tears and drama.